The Virgin Mary portrait tattoo by Haylo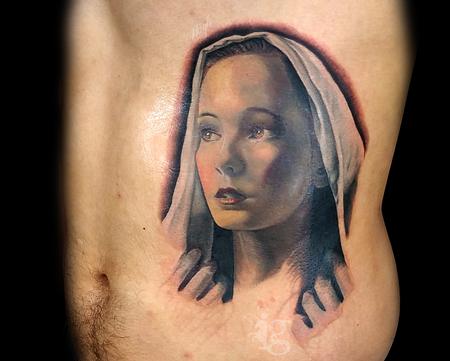 I do not have any religious style tattoos in my portfolio. And this Portrait tattoo of the Virgin Mary was too beautiful to pass up!
I love doing more human portraiture in my portfolio, and this client said this photo was very symbolic for him in his spiritual background and that he wanted rather more of a portrait tattoo rather than a religious tattoo.
To see more of my tattoos and artwork, visit my website and social media Ink Goddess Tattoos Facebook and Instagram
Keyword Galleries:
Color Tattoos
,
Feminine Tattoos
,
Nature Tattoos
,
Portrait Tattoos
,
Realistic Tattoos
,
Religious Tattoos
,
Body Part Side Tattoos
,
Bodyset Tattoos
,
Custom Tattoos
,
Family Tattoos
,
Family Heritage Tattoos
,
Finished Work Tattoos
,
General Tattoos
,
Illustrations Tattoos
,
Misc Tattoos
,
Myth Tattoos
,
New Tattoos
,
Religious Angel Tattoos
,
Religious Mary Tattoos
,
Spiritual Tattoos
,
Stand Alone Tattoos