Wolf rework tattoo by Haylo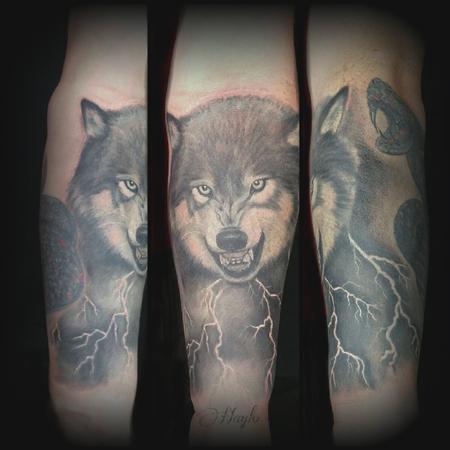 My client originally wanted to add lightning to an old wolf tattoo on his arm.
I informed him that I must insist on redoing the wolf part of his tattoo... He agreed.
This is the end result after I freehanded new details and added symmetry to the facial features of the wolf, as well as adding the lightning below.
Not ALL low quality tattoos are hopeless. As you can see, there's barely any evidence of the former wolf left behind due to the image being a very popular tattoo reference.
Keyword Galleries:
Black and Gray Tattoos
,
Blackwork Tattoos
,
Coverup Tattoos
,
Nature Tattoos
,
Portrait Tattoos
,
Realistic Tattoos
,
Body Part Arm Tattoos
,
Finished Work Tattoos
,
Misc Tattoos
,
Nature Animal Tattoos
,
Nature Animal Wildlife Tattoos
,
Nature Animal Wolf Tattoos
,
New Tattoos
,
Oddities Tattoos