Collection of tattoos by Haylo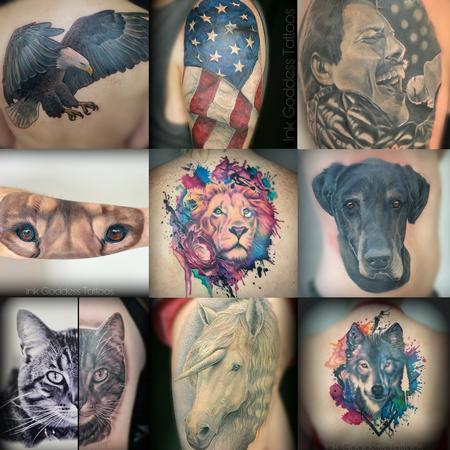 I love collecting some of my favorites to demonstrate some of my most memorable pieces!

I truly LOVE my career as a tattoo artist and this is only a mere fraction of my favorites!
Photo realism, portraiture, and watercolor styles are my favorite genres I specialize in.
Keyword Galleries:
Animal Tattoos
,
Black and Gray Tattoos
,
Color Tattoos
,
Coverup Tattoos
,
Example Tattoos
,
Fantasy Tattoos
,
Feminine Tattoos
,
Flower Tattoos
,
Nature Tattoos
,
Portrait Tattoos
,
Realistic Tattoos
,
Abstract Tattoos
,
Aerosol Inspired Tattoos
,
Body Part Ankle Tattoos
,
Body Part Arm Tattoos
,
Body Part Arm Sleeve Tattoos
,
Body Part Back Tattoos
,
Body Part Calf Tattoos
,
Body Part Chest Tattoos for Men Tattoos
,
Body Part Chest Tattoos for Women Tattoos
,
Body Part Foot Tattoos
,
Body Part Hand Tattoos
,
Body Part Leg Tattoos
,
Body Part Leg Sleeve Tattoos
,
Body Part Lower Back Tattoos
,
Body Part Shoulder Tattoos
,
Body Part Side Tattoos
,
Bodyset Tattoos
,
Bodyset - Hyperspace Tattoos
,
Celebrity Tattoos
,
Collaborative Tattoos
,
Custom Tattoos
,
Ethnic American Tattoos
,
Ethnic Flag Tattoos
,
Ethnic Native American Tattoos
,
Family Tattoos
,
Fantasy Fairy Tattoos
,
Fantasy Gargoyle Tattoos
,
Fantasy Mermaid Tattoos
,
Fantasy Pheonix Tattoos
,
Fantasy Warrior Tattoos
,
Finished Work Tattoos
,
Fire-fighters Tattoos
,
Flower Asian Pear Blossom Tattoos
,
Flower Cherry Blossom Tattoos
,
Flower Chrysanthemum Tattoos
,
Flower Lily Tattoos
,
Flower Lotus Tattoos
,
Flower Poppy Tattoos
,
Flower Rose Tattoos
,
Flower Tulip Tattoos
,
Flower Venus Flytrap Tattoos
,
Flower Vine Tattoos
,
General Tattoos
,
Half-Sleeve Tattoos
,
Memorial Tattoos
,
Military Tattoos
,
Misc Tattoos
,
Movie Sci Fi Tattoos
,
Myth Tattoos
,
Nature Animal Tattoos
,
Nature Animal Bear Tattoos
,
Nature Animal Bird Tattoos
,
Nature Animal Bull Tattoos
,
Nature Animal Butterfly Tattoos
,
Nature Animal Cat Tattoos
,
Nature Animal Dog Tattoos
,
Nature Animal Dolphin Tattoos
,
Nature Animal Dragonfly Tattoos
,
Nature Animal Eagle Tattoos
,
Nature Animal Horse Tattoos
,
Nature Animal Insect Tattoos
,
Nature Animal Koi Fish Tattoos
,
Nature Animal Ladybug Tattoos
,
Nature Animal Lion Tattoos
,
Nature Animal Lizard Tattoos
,
Nature Animal Octopus Tattoos
,
nature animal owl Tattoos
,
Nature Animal Panther Tattoos
,
Nature Animal Pig Tattoos
,
Nature Animal Rabbit Tattoos
,
Nature Animal Rhinoceros Tattoos
,
Nature Animal Scorpion Tattoos
,
Nature Animal Snake Tattoos
,
Nature Animal Spider Tattoos
,
Nature Animal Tiger Tattoos
,
Nature Animal Turtle Tattoos
,
Nature Animal Wildlife Tattoos
,
Nature Animal Wolf Tattoos
,
New Tattoos
,
Oddities Tattoos
,
Skin Rips Tattoos
,
Sleeves Tattoos
,
Space and Aliens Tattoos
,
Spiritual Tattoos
,
Tattoo Concepts Tattoos