Elephant and Lion half sleeve by Haylo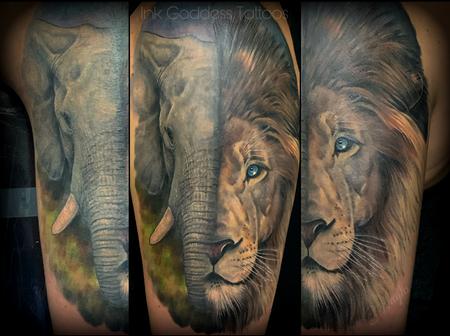 http://www.inkgoddesstattoos.comMy client traveled from Alaska to have this custom animal integration design commissioned and completed. I am always truly honored when my clients do so much research and are willing to travel great distances for high quality tattoo work, and that I am the artist they ultimately choose for their piece.
This client became a dear friend of mine during the many sessions needed to complete this tattoo and the representation of her family members, family history and symbolizm that is associated with both the Lion and the Elephant in her half sleeve tattoo.
Keyword Galleries:
Animal Tattoos
,
Color Tattoos
,
Example Tattoos
,
Fantasy Tattoos
,
Nature Tattoos
,
Portrait Tattoos
,
Realistic Tattoos
,
Body Part Arm Tattoos
,
Body Part Shoulder Tattoos
,
Collaborative Tattoos
,
Custom Tattoos
,
Finished Work Tattoos
,
General Tattoos
,
Half-Sleeve Tattoos
,
Misc Tattoos
,
Nature Animal Tattoos
,
Nature Animal Cat Tattoos
,
Nature Animal Lion Tattoos
,
Nature Animal Panther Tattoos
,
Nature Animal Tiger Tattoos
,
Nature Animal Wildlife Tattoos
,
New Tattoos
,
Oddities Tattoos
,
Original Art Tattoos